What would you say is your core design philosophy in your approach to interior architecture?
Inquisitive insight. Regardless of what sector a client fits within, I truly believe that drilling down as far as possible to gain insight into how they operate and what the future looks like for them is incredibly important. We can then optimise these objectives through our design response and help plan for change. This inquisitiveness extends to an analysis of the building itself: what physical constraints and attributes are we working with that might unlock solutions?
As the land we're building on evolves, it's also evermore our responsibility to be intelligent about the materials we select, and I constantly strive to be more minimal in terms of each project's footprint. Material science is advancing and architects are constantly discovering better efficiencies in terms of sustainability. We can increasingly do more with less by meeting occupant needs with really clever design.
The idea of human-centric design has become a buzz-word across all industries. Can you talk us through some use cases where you're seeing it impact interiors?
Over the last decade, I've seen a seismic shift in how personal connectivity and social media have brought about a focus on user experience (UX), and how people move through cities and buildings. This has opened up new conversations with clients around not just UX but the leasing experience and the 'whole of life' experience by way of retail, hospitality, work and leisure coming together.
For example, to optimise the patient care model in hospitals, clients are looking beyond the functionality of how many theatres and what kind of equipment is needed, to a greater focus on the visitor and staff experience. Drawing from a sense of discovery and hospitality in the retail sector, hospitals are now aiming to relax people and ease navigation, from how you plan your visit to how you arrive, park and enter through a central point.
As cities densify and spaces for new development become few and far between, we're seeing an increase in refurbishments as opposed to new builds. How do you approach repurposing interiors as opposed to creating new spaces?
With a global waste crisis on our hands, smart renovations require an intelligent approach to preserving the essence of buildings that residents of a city have come to know and love, whilst acting responsibly in the way materials are sourced and used.
Just before joining Architectus I worked on a large repurposing project for Suncorp, who were consolidating from three other sites around Sydney into a single unified state office. Before the fit out was tailored for tenancy, we had a unique opportunity to walk through the existing space and make individual decisions about what could be reused – from meeting rooms, to furniture and finishes.
For example, it would have been a travesty to smash the large walls of existing stone that had been quarried, cut and installed, so we managed to tie these in with the new brand aesthetic. We also focused on creating flexible spaces for employees to modify themselves as the business grew.
Interiors tend to not reach their potential when they become obsessed with brand new, photo-worthy fitouts that demonstrate prowess in taste and modern design. It should not matter if furniture moves around, it should be more about how people want to work in the space. This is a significant change of mindset in terms of workplace design, and can hopefully normalise a recycling conscience in other sectors.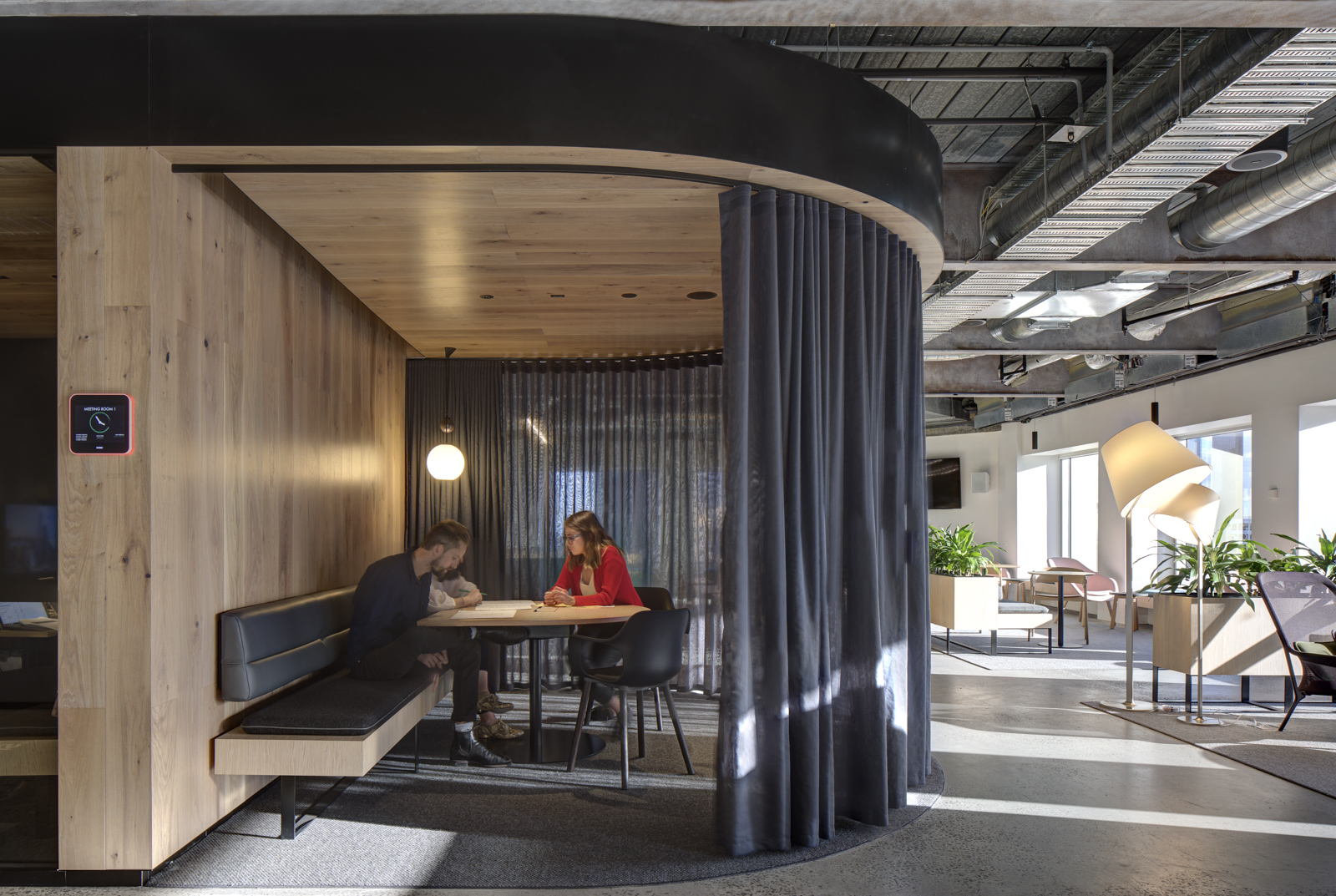 How does a building's exterior impact or inspire the interior design of a space?
In my opinion, an appreciation of context and deep understanding of the physical attributes of a building is central to any successful interiors approach – especially in the education space. As part of modern teaching and learning pedagogies, spaces need to not just integrate technology, but enable new learning and wellbeing outcomes by connecting with the outside world. Environmental conditions can inform external features and internal operations, from focusing on natural lighting and acoustics, to bringing materials from the outside, indoors.
To get this right, I think it's important there's an indivisible connection between the interiors team and architects. We need to know the architectural rationale for the building's configuration before we can design indoor spaces that connect with the approach and tie the whole space – from neighbourhood to classroom – together.
What makes you most excited about working at Architectus?
I'm very excited to work in a large team that has collaboration embedded in its DNA. Seamlessness comes when interiors work hand in hand with other sectors, and this ethos is central at Architectus. I'm also excited to have such a diverse remit – from commercial, to high-rise residential and aviation, working in quite abstract ways at the forefront of property and asset ownership.
---
Mark Talbot joined Architectus in 2019 bringing to the company almost 30 years of experience in architecture, interior architecture, and industrial design. He has worked in world-class studios in Australia, London, and Hong Kong. Most recently, Mark led client and project acquisitions at Geyer having previously managed the company's Sydney studio.